Last Updated: 19th May, 2013
MANIT Bhopal Detail
(Description/ Courses/ CCMT Cutoffs/ Placement / Image/Review )
Affiliated To : AICTE
Established In : 1960
Location : Bhopal, India Pin: 462051 Tel  : +91 755 5206006, 07, 08, 09, 10 Fax: +91-755 2670562, 2670802, 2671175
Website : http://manit.ac.in
Introduction:
The National Institute of Technology, Bhopal, like many other NITs used to be a Regional Engineering College. Perhaps the most popular engineering college in Madhya Pradesh, it's among the top few NITs. It celebrated its golden jubilee year in 2010.
Location:
The NIT Bhopal campus is situated in main city Bhopal. Much of the area inside and around is Urban. It has a great variety of flora inside the campus which is maintained by college itself.
Campus and Infrastructure:
No Hostel for M.Tech Student at Present ( Date 1/7/2013)
It has almost all the facilities an engineering college should have, except for some like a common room which might be open 24×7 for students to work, night canteens, and decent furniture in some of the classes. Many laboratories of this campus are air conditioned, especially computer labs. There are seven hostels as of now and new ones are under progress. Hostel infrastructure is a bit below average though. Unavailability of drinking water sometimes is a problem. Each year hostels change so number of roommates change as well. LAN access is available in every room with good downloading speeds. Labs here are not too well equipped. And even if they are, equipments don't work properly. Oh dear.
Faculty:
Some of the professors are very good and experienced too. But most of them have bad teaching methodologies which drives students away from attending regular classes. Deans are very helpful in their respective areas. They lend students a friendly ear and try to sort out their problems.
Crowd:
The boy to girl ratio is not good, but what do you expect at an NIT? With roughly one girl for every four boys, the ratio is probably much healthier than what you'll see at most other places. People come here from across the country so the culture is rich and varying.  This blend of cultures makes life on campus very exciting and happening. Ragging was common once upon a time, and it was pretty scary too, but for last two years it has stopped.
Rankings:
Amongst all engineering institutes in country, NIT Bhopal stands at around 25-35 and amongst NITs it stands at around 6th or 7th position.You need to have a rank of anything higher than 12000 to get a decent branch here.
Placements and Internships:
Placements have really improved in the past couple of years. Though always quite excellent, they've become even better now. Software and IT companies are now joined by finance firms which pick up a number of students with really good packages.
Festivals and Activities:
Every year the technical festival 'Technosearch' is organized in the even semester. It's a national level event. This year NIT Bhopal took an initiative to organize an Inter NIT Robotics Championship which, needless to say, was a great success.
Canteen/Mess:
The food in the mess, unfortunately, isn't too good. But students are forced to eat it because they cannot spend daily on food.
Bhopal is a city of lakes, and students can be found hanging out by the lakes. Also there is a new mall called DB City mall which is a treat to visit.
Contact Address:
Maulana Azad National Institute of Technology (MANIT)
Bhopal-462051.
Madhya Pradesh, India.
Telephone : +91 755 4051000 / 4052000
Fax : +91-755 2670562, 2670802, 2671175
Website : www.manit.ac.in
M.Tech Courses offered

| | |
| --- | --- |
| Applied Mechanics – (AM) | Engineering Materials – (EL) |
| Applied Mechanics – (AM) | Stress & Vibration Analysis – (SV) |
| Civil Engineering – (CE) | Structural Engineering – (SU) |
| Civil Engineering – (CE) | Environmental Engineering – (EV) |
| Civil Engineering – (CE) | Geotechnical Engineering – (GE) |
| Civil Engineering – (CE) | Hydro Power Engineering – (HE) |
| Civil Engineering – (CE) | Transportation Engineering – (TE) |
| Civil Engineering – (CE) | Water Resources Engineering – (WR) |
| Civil Engineering – (CE) | Geoinformatics & Its Applications – (GI) |
| Electronics & Communication Engineering – (EC) | Digital Communication – (DC) |
| Electronics & Communication Engineering – (EC) | VLSI & Embedded Systems – (VS) |
| Electrical Engineering – (EE) | Electrical Drives – (ED) |
| Electrical Engineering – (EE) | Power System Engineering – (PS) |
| Mechanical Engineering – (ME) | Thermal Engineering – (TI) |
| Mechanical Engineering – (ME) | Industrial Design – (ID) |
| Mechanical Engineering – (ME) | Maintenance Engineering – (MN) |
| Material Science & Metallurgy – (MS) | Materials Science & Technology – (MH) |
| Computer Science & Engineering – (CT) | Information Security – (IS) |
| Computer Science & Engineering – (CT) | Advanced Computing – (AC) |
| Computer Science & Engineering – (CT) | Computer Networking – (XW) |
| Energy – (EN) | Renewable Energy – (RE) |
| Energy – (EN) | Green Technology – (GT) |
| Chemical Engineering – (CH) | Biotechnology – (BT) |
| Chemical Engineering – (CH) | Chemical Process Design – (CD) |
| Physics – (PH) | Nanotechnology – (NT) |
| Mathematics – (MA) | Bio-informatics – (BI) |
| Mathematics – (MA) | Computation & System Bioinformatics – (XB) |
| Architecture & Planning – (AP) | Urban Development – (UD) |
| Architecture & Planning – (AP) | Housing – (HO) |
CCMT CUTOFF 2012
Round 4
Department
Programme
Group
OC
OB
SC
ST
Open
Close
Open
Close
Open
Close
Open
Close
Applied Mechanics– (AM)
Engineering Materials – (EL)
G1
518
451
435
406
337
305
Applied Mechanics – (AM)
Stress & Vibration Analysis – (SV)
G1
576
486
478
417
308
305
Architecture & Planning – (AP)
Housing – (HO)
G1
346
318
199
186
Architecture & Planning – (AP)
Urban Development – (UD)
G1
369
313
289
289
182
172
Civil Engineering – (CE)
Environmental Engineering – (EV)
G1
350
326
300
277
260
223
Civil Engineering – (CE)
Geotechnical Engineering – (GE)
G1
439
354
341
326
278
223
Civil Engineering – (CE)
Geoinformatics – (GI)
G1
589
552
534
520
407
393
266
261
Civil Engineering – (CE)
Hydro Power Engineering – (HE)
G1
478
446
443
402
334
301
Civil Engineering – (CE)
Structural Engineering – (SU)
G1
486
420
412
359
281
264
251
186
Civil Engineering – (CE)
Transportation Engineering – (TE)
G1
404
359
346
318
260
229
Civil Engineering – (CE)
Water Resources Engineering – (WR)
G1
363
322
318
297
284
224
Chemical Engineering – (CH)
Biotechnology – (BT)
G1
473
437
372
335
340
262
179
179
Chemical Engineering – (CH)
Chemical Process Design – (CD)
G1
317
313
233
226
Computer Science & Engineering – (CT)
Advanced Computing – (AC)
G1
625
584
561
552
425
407
311
311
Computer Science & Engineering – (CT)
Information Security – (IS)
G1
625
579
566
552
448
398
327
307
Computer Science & Engineering – (CT)
Computer Networking – (XW)
G1
648
584
548
538
407
402
343
302
Electronics & Communication Engineering – (EC)
Digital Communication – (DC)
G1
651
603
573
561
416
410
302
302
Electronics & Communication Engineering – (EC)
VLSI & Embedded Systems – (VS)
G1
693
627
603
573
446
428
320
320
Electrical Engineering – (EE)
Electrical Drives – (ED)
G1
587
539
528
491
377
371
323
286
Electrical Engineering – (EE)
Power System Engineering – (PS)
G1
612
545
533
503
389
383
331
291
Energy – (EN)
Green Technology – (GT)
G1
533
503
469
459
359
341
281
281
Energy – (EN)
Renewable Energy – (RE)
G1
527
497
446
425
365
341
239
239
Mathematics – (MA)
Bio-informatics – (BI)
G1
450
359
276
276
202
161
202
202
Mathematics – (MA)
Computation & System Bioinformatics – (XB)
G1
452
340
277
277
243
189
Mechanical Engineering – (ME)
Industrial Design – (ID)
G1
549
514
496
467
363
352
Mechanical Engineering – (ME)
Maintenance Engineering – (MN)
G1
507
471
461
449
341
323
Mechanical Engineering – (ME)
Thermal Engineering – (TI)
G1
587
547
525
500
467
370
Material Science & Metallurgy – (MS)
Materials Science & Technology – (MH)
G1
493
467
435
417
355
326
Physics – (PH)
Nanotechnology – (NT)
G1
603
573
549
518
404
398
278
278
Branch wise Placements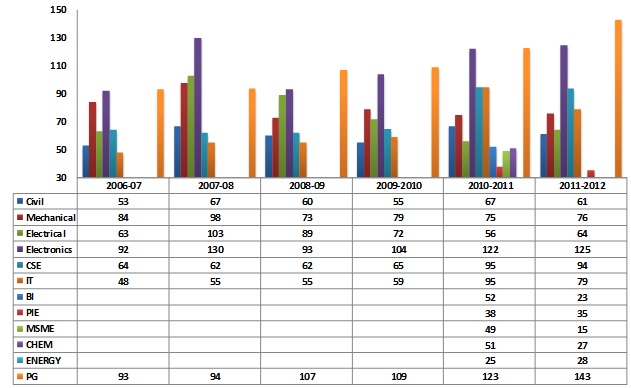 Placements Statics 2010-2011
| | | |
| --- | --- | --- |
| Branch | Students Eligible | Placements Offers Made |
| Civil Engineering | 62 | 67 |
| Mechanical Engineering | 71 | 75 |
| Electrical Engineering | 64 | 56 |
| Electronics and Communication Engineering | 91 | 122 |
| Computer Science Engineering | 66 | 95 |
| Information Technology | 57 | 95 |
| Materials Science & Metallurgical Engineering | 37 | 49 |
| Chemical Engineering | 39 | 51 |
| M.Tech | 170 | 118 |
| MCA | 62 | 66 |
| MBA | 71 | 14 |
| Architecture | 0 | 8 |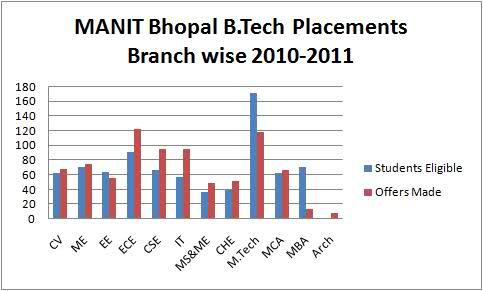 MANIT Bhopal Branch wise B.Tech Placements 2007-2008
 
Company-cum-Branchwise selections-2007-08
Date
Name of Company
Civil
Elect
Mech
EL&CE
CSE
IT
Arch**
Totl(UG)
MCA
M.tech     **
Total (P.G.)
  TotalUG+PG
Total Slctn.s
Approx.Remnrtn. in Lakhs
 Total Eligible
40
66
68
96
59
50
24
403
60
145
205
608
 
 
18-20.5.07
TCS,  Mumbai
11
9
8
20
5
16
–
69
8
24
32
101
101
Software
20-21.5.07
Accenture, Bangalore
5
5
6
11
12
5
–
44
7
–
7
51
152
Software
20-21.5.07
L&T, Mumbai
–
1
4
–
–
–
–
5
–
1
1
6
158
Core
21-22.5.07
Wipro Tech., Bnglre.
5
8
5
20
10
9
–
57
3
11
14
71
229
Software
23.5.07
Patni Cmptr., Mumbai
1
4
1
3
1
–
–
10
3
7
10
20
249
Software
24.5.07
Infosys,  Bangalore
2
6
3
7
5
1
–
24
–
1
1
25
274
Software
25.5.07
Impetus,  Indore
–
–
–
–
4
2
–
6
2
2
4
10
284
Software
26.5.07
CSC,  Indore
–
1
–
3
3
1
–
8
–
–
–
8
292
Software
26.5.07
Bajaj Auto,  Pune
–
–
3
–
–
–
–
3
–
–
–
3
295
Core
27.5.07
Persistent ,Nagpur
–
1
–
2
2
–
–
5
–
–
–
5
300
Software
28.5.07
BPCL,  Mumbai
–
2
4
4
–
–
–
10
–
–
–
10
310
P.S.U.
29.5.07
I.B.M.,  Gurgaon
–
–
2
5
4
–
–
11
6
5
11
22
332
Software
29-30.5.07
CapGemini, Mumbai
–
–
–
4
2
1
–
7
3
–
3
10
342
Software
31.5.07
Tata Elxsi,  Bnglre.
–
–
–
3
–
1
–
4
–
–
–
4
346
Core
01.07.07
Ashok Leylad, Chennai
–
–
3
–
–
–
–
3
–
–
–
3
349
Core
02.07.07
Vedanta Group.
1
11
3
1
–
–
–
16
–
–
–
16
365
Core
03.07.07
Bharti Telesoft, N. Dlhi
–
–
–
–
1
2
–
3
–
–
–
3
368
Software
4-5.07.07
C-DOT,  New Delhi
–
–
–
7
6
–
–
13
–
2
2
15
383
Core
05.07.07
Aricent,  Gurgaon
–
–
–
1
1
1
–
3
2
–
2
5
388
Software
06.07.07
I.O.C.L.,  New Delhi
2
1
4
–
–
–
–
7
–
–
–
7
395
PSU
07.07.07
I.T.C. Infotech.
–
2
–
1
–
2
–
5
2
–
2
7
402
Software
08.07.07
ABB Ltd., Vadodara
–
4
2
–
–
–
–
6
–
–
–
6
408
Core
08.07.07
Areva,  Chennai
Awtd.
–
Core
10.07.07.
Zensar,
–
–
–
–
–
1
–
1
–
–
–
1
409
Software
14.07.07
Sapient,  Gurgaon
–
–
–
–
–
2
–
2
–
–
–
2
411
Software
15.07.07
Cybage,  Pune
–
–
–
1
2
3
–
6
–
–
–
6
417
Software
16.07.07
Essar Steel Ltd.,  Guj.
3
2
3
–
–
–
–
8
–
–
–
8
425
Core
19.07.07
Alstom projects, Dlhi.
–
5
7
1
–
–
–
13
–
–
–
13
438
Core
25.07.07
Bharat Oman,  Bina
–
1
1
–
–
–
–
2
–
–
–
2
440
P.S.U.
27.07.07
T.I.M.E., Hyderabad
NoSlctn
–
–
–
–
–
–
–
–
–
–
–
–
Educational
17.08.07
DRDO, N. Delhi
–
–
1
–
–
–
–
1
–
–
–
1
441
P.S.U.
18.08.07
Energy Infratech
5
–
–
–
–
–
–
5
–
8
8
13
454
Core
19-20.8.07
Globallogic, Nagpur
–
–
–
–
–
2
–
2
2
–
2
4
458
Software
20.08.07
Applied Mtrls., Bnglre.
–
–
–
–
2
1
–
3
–
–
–
3
461
Software
20.08.07
L & T ECC,  Chennai
2
–
–
–
–
–
–
2
–
–
–
2
463
Core
20-21.8.07
Analog Devices, Bnglre.
NoSlctn
–
–
–
–
–
–
–
–
–
–
–
–
Core
21.08.07
L.G. Electronics
–
–
–
–
–
–
–
–
–
4
4
4
467
Core
21.08.07
Samtel,  New Delhi
Awtd.
–
Core
21.08.07
NTPC, New Delhi
4
3
5
4
–
–
–
16
–
–
–
16
483
P.S.U.
03.09.07
Gammon India,
6
3
5
–
–
–
–
14
–
–
–
14
497
Core
04.09.07
Eicher Motors, Indore
NoSlctn.
–
–
–
–
–
–
–
–
–
–
–
–
Core
17-18.9.07
Jindal Steels, Hissar
1
1
3
–
–
–
–
5
–
–
–
5
502
Core
18.09.07
Maruti Udyog, Gurgaon
–
4
5
5
–
–
–
14
–
–
–
14
516
Core
21-22.9.07
Honda, Gurgaon
Awtd.
Core
27.09.07
Hindalco, Renukut
–
–
2
4
–
–
–
6
–
–
–
6
522
Core
28-29.09.07
Samsung
–
–
–
3
2
4
–
9
–
–
–
9
531
Software
10.10.07
Crompton Greaves Ltd.
Awtd.
Core
27.10.07
NMSEZ,  Navi Mumbai
2
1
1
–
2
–
–
6
–
2
2
8
539
Core
27.11.07
Sterlite Opticals
Awtd.
Core
28-29.11.07
Reliace Energy
9
18
7
16
–
–
–
50
–
–
–
50
589
Core
29.11.07
Verizon, Chennai
–
–
–
2
2
–
–
4
1
–
1
5
594
Software
29.11.07
Career Launcher
–
–
–
–
–
–
–
–
–
1
1
1
595
Coaching
 
TOTAL
59
93
88
128
66
54
–
488
39
68
107
595
 
 
REVIEW
All India Ranks Including IITs
| | |
| --- | --- |
| India Today Rank | NA |
| Outlook Rank | NA |
| Dataquest Rank | NA |