Last Updated: 20th May, 2013
MNIT Jaipur Detail
(Description/ Courses/ CCMT Cutoffs/ Placement / Image/Review )
Affiliated To : AICTE
Established In : 1963
Location : JLN Marg, Jaipur Tel +91-141-2529078 Fax: +91-141-2529029
Website : http://www.mnit.ac.in
Introduction:
Malaviya National Institute of Technology was formerly the Regional Engineering College (REC) in the capital of Rajasthan. Established in 1963, it was given the status of an NIT in 2003. The college is also considered an Institute of National Importance, which is a pretty cool thing, if you ask us.
 Location:
Malaviya NIT Jaipur is located in quite a prime area, right in the heart of the city. This ensures that, unlike what is the case with most NITs, MNIT has an urban campus, and there actually are a number of things to do once you step out of the college. The area is partly commercial and partly residential, and also houses the very famous GT Market.
 Infrastructure:
The huge, 350 acre campus is tastefully designed, with lush greenery prevailing in spite of the extreme conditions of Jaipur. Ever since it was given NIT status, the college has been involved in constant renovation activity. The college gives a look of being in transition. Most of the older buildings are being torn down, and swanky new buildings have come up. The fully air conditioned, computerized library has more books than you could bargain for and – more importantly – they are made available to students whenever required. The new laboratories are air conditioned, and the old ones are pretty well-maintained as well. The old hostels aren't that appealing, but the new hostels (which are coming up very quickly) are fantastic. The present canteen is nothing to boast about, but the upcoming one promises to be quite excellent. For the time being, students are happy with the juice corners in the hostels. The messes are huge, and serve food which isn't great, to be honest, but is more than edible.
 Ranking:
NIT Jaipur is widely considered to be in the top 5 NITs. For the in-demand courses, you'll need a rank of about 2000, while the less-loved branches would admit you with a rank of around 8000.
Faculty:
The faculty, as you would expect at most colleges, is a decent mixture of good and not-so-good professors. Senior professors outnumber junior professors, and almost the entire staff is quite approachable. There are a few problems, though. Some teachers are said to be very annoying, and some are said to hold grudges for the longest time. So you'd best make sure you're in everyone's good books.
Attendance:
Most professors insist that each student needs to maintain a minimum of 75 per cent attendance. In some cases, your rapport with a professor might help you work around it, but don't count on it. If you fall too short of attendance, they might just fail you.
Crowd:
Now, a great crowd isn't something you associate with NITs, and MNIT is no different. The boy/girl ratio is a terrible 7:1 (and it may be worse), so girls are at an absolute premium here. But the one thing that really stands out is the excellent rapport that students have with each other. Especially the hostellites, who develop strong bonds through their four (or more) years at the college with each other.
Festivals:
NIT Jaipur hosts national level festivals every year, out of which the stand-out events are their technical fest, Neuron and their cultural fest, Blitzschlag.
Contact Address:
Malaviya National Institute of Technology,
Jawahar Lal Nehru Marg,
Jaipur – 302017,
Rajasthan.
Website : www.mnit.ac.in
B.Tech Courses offered
Architecture

Civil Engineering

Chemical Engineering

Computer Engineering

Chemistry

Electronics & Communication Engineering

Electrical Engineering

Humanities & Social Sciences

Mathematics

Metallurgical & Materials Engineering

Physics

Structural Engineering

Information Technology
M.Tech Courses offered

| | |
| --- | --- |
| Metallurgical & Materials Engineering – (MT) | Steel Technology – (ST) |
| Architecture & Planning – (AP) | Urban Planning – (UP) |
| Chemical Engineering – (CH) | Chemical Engineering – (CE) |
| Electrical Engineering – (EE) | Power System Engineering – (PS) |
| Electronics & Communication Engineering – (EC) | Electronics & Communication Engineering – (EG) |
| Electronics & Communication Engineering – (EC) | VLSI Design – (VN) |
| Computer Engineering – (CX) | Computer Engineering – (XE) |
| Civil Engineering – (CE) | Environmental Engineering – (EV) |
| Civil Engineering – (CE) | Water Resources Engineering – (WR) |
| Civil Engineering – (CE) | Transportation Engineering – (TE) |
| Civil Engineering – (CE) | Disaster Assessment and Mitigation – (DA) |
| Civil Engineering – (CE) | Structural Engineering – (SU) |
| Metallurgical & Materials Engineering – (MT) | Metallurgical & Materials Engineering – (MM) |
| Mechanical Engineering – (ME) | Energy Engineering – (EY) |
| Centre for Energy & Environment – (CY) | Renewable Energy – (RE) |
| Mechanical Engineering – (ME) | Industrial Engineering – (IG) |
| Mechanical Engineering – (ME) | Production Engineering – (PU) |
| Mechanical Engineering – (ME) | Design Engineering – (DG) |
CCMT CUTOFF 2012
Round 4
Department
Programme
Group
OC
OB
SC
ST
Open
Close
Open
Close
Open
Close
Open
Close
Architecture & Planning – (AP)
Urban Planning– (UP)
G1
404
313
289
289
219
190
207
207
Civil Engineering – (CE)
Disaster Assessment and Mitigation – (DA)
G1
330
330
323
272
256
219
199
199
Civil Engineering – (CE)
Environmental Engineering – (EV)
G1
457
435
420
402
417
301
265
265
Civil Engineering – (CE)
Structural Engineering – (SU)
G1
469
449
432
420
278
277
408
408
Civil Engineering – (CE)
Transportation Engineering – (TE)
G1
445
387
375
338
277
268
296
296
Civil Engineering – (CE)
Water Resources Engineering – (WR)
G1
385
326
305
297
264
236
227
227
Chemical Engineering – (CH)
Chemical Engineering – (CE)
G1
362
317
305
279
264
264
321
321
Chemical Engineering – (CH)
Chemical Engineering – (CE)
G2
473
441
404
395
345
294
218
218
Computer Engineering – (CX)
Computer Engineering – (XE)
G1
788
639
620
589
489
466
375
352
Centre for Energy & Environment – (CY)
Renewable Energy – (RE)
G1
598
521
508
467
435
420
305
287
Electronics & Communication Engineering – (EC)
Electronics & Communication Engineering – (EG)
G1
628
603
597
561
489
422
422
362
Electronics & Communication Engineering – (EC)
VLSI Design – (VN)
G1
783
645
573
567
507
422
422
398
Electronics & Communication Engineering – (EC)
VLSI Design – (VN)
G2
639
633
567
562
Electrical Engineering – (EE)
Power System Engineering – (PS)
G1
617
539
521
497
449
389
375
341
Mechanical Engineering – (ME)
Energy Engineering – (EY)
G1
572
500
482
442
467
363
359
258
Mechanical Engineering – (ME)
Manufacturing System Engineering – (MY)
G1
583
457
439
397
390
312
355
268
Metallurgical & Materials Engineering – (MT)
Metallurgical & Materials Engineering – (MM)
G1
207
207
Metallurgical & Materials Engineering – (MT)
Metallurgical & Materials Engineering – (MM)
G2
486
475
458
420
337
337
237
237
PLACEMENT
Salient Features of Placement 2011-12
Highest Pay Package – Rs. 16 LPA by Microsoft IDC to 4 students of Computer Engineering
Highest Average Pay Package of a branch – Rs. 6.75 LPA (Computer Engineering)
Numbers of Companies Visited – 109
Percentage placement of eligible B.Tech. Students have already crossed 100% mark.

Number of placements by December this year is almost double of last year.

M.Tech. placements have improved in comparison to last years.

Average salary package (B.tech) has seen a hike (this year 5.26 LPA) in comparison to last year's package (4.40 LPA).
Few students also got Pre Placement Offers (PPO). The details are as follow :

Drishti-Software Solutions offered 2 students with package of Rs. 8 LPA.
Microsoft India  offered 1 student with package of Rs. 16LPA.

Placement Session 2011-12
Total no. of Companies = 110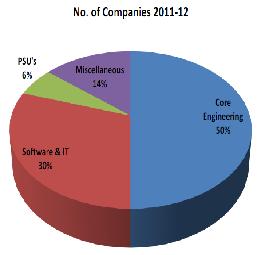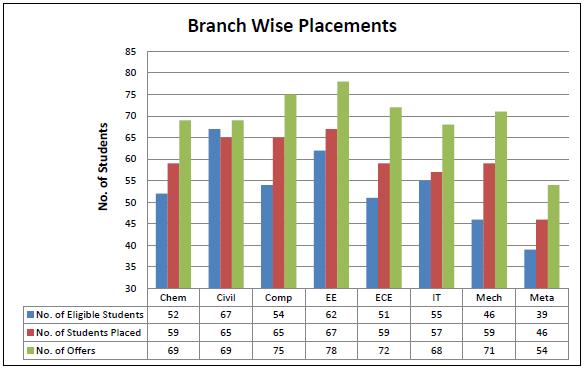 REVIEW
All India Ranks Including IITs
| | |
| --- | --- |
| India Today Rank | NA |
| Outlook Rank | NA |
| Dataquest Rank | NA |