Last Updated: 6th January, 2014
Powergrid (PGCIL) Executive Trainee 2014
Powergrid- PGCIL Executive Trainee Recruitment 2014
PGCIL ELIGIBILITY CRITERIA
a. Valid Score in the Electrical Engineering (EE) paper of GATE 2014. Candidate should have appeared in the EE paper of GATE 2014 and
Qualified inthe same. The qualifying marks shall be as declared by GATE 2014 Organizing Body.
b. Upper Age Limit 28 years as on 31.12.2013
c. Essential Qualification

Final Year / Semester students who expect their results by 14.08.2014 are also eligible, provided they have obtained 65% marks or equivalent CGPA in aggregate of all semesters/years up to pre-final examination.
HOW TO APPLY for PGCIL
1. From 18th December 2013 onwards, candidates can download their GATE admit cards from the zonal GATE websites of IISc and 7 IITs.
The GATE admit Card shall contain their GATE 2014 Registration Number as well as GATE 2014 Enrolment ID.
2. From 7th January 2014 onwards , candidates have to register themselves online at POWERGRID website www.powergridindia.com with details of their GATE registration number and other required information. GATE Registration No. as appearing on the top portion of GATE-2014 admit card(2 alpha, 9 numerics) needs to be entered carefully in the online application form.
No other number should be entered as GATE-2014 Registration number while applying to POWERGRID.
Please note that once your application is submitted, no request regarding change in GATE Registration Number or Name shall be entertained.
Enter your name and other details exactly as entered in your GATE admit card.
3.Fill up other details in the application very carefully. Please take care while filling out the email/alternative email fields since all important communication shall be through emails only.
4.Upon completion, the candidate should submit the online application by clicking the Submit button at the bottom of the page. If the same is accepted, the system will generate a unique POWERGRID Registration Number which shall appear in the completed application form.
5.The primary email ID entered by the candidate is the Login ID and the unique Registration Number generated is the password for logging in to POWERGRID Online application system.
6.The process of application for this Executive Trainee post in POWERGRID is completed with the generation of the unique POWERGRID Registration Number . Upon completion, an email shall be sent to the candidate for confirmation.
SELECTION PROCESS OF PGCIL

The Selection Process consists of marks obtained (out of 100) in the EE paper of GATE – 2014, Group Discussion & Personal Interview.
Eligible candidates will have to appear for the Electrical Engineering (EE) paper of GATE – 2014. Candidates qualified in EE paper of GATE -2014 shall only be eligible to be considered for the next stage of selection. Qualified candidates shall be short-listed category-wise for Group Discussion & Personal Interview based on their marks out of 100 in the EE paper of GATE–2014.
Candidates shall obtain information about their status through their login at the POWERGRID Online Application System. Shortlisted candidates shall be able to download their interview call letter and other relevant documents through the candidate login.
Candidates shortlisted for the Group Discussion and Interview shall be required to bring the documents as mentioned in their interview call letter.
Candidates must qualify in the Personal Interview in order to be considered for empanelment. The qualifying % in interview for different categories are as mentioned below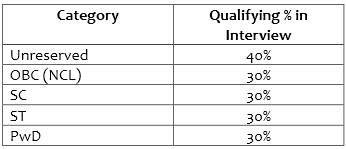 For calculation of final score of a candidate for empanelment, the weightages of marks obtained in GATE, Group Discussion and Interview shall be as indicated below

COMPENSATION PACKAGE of PGCIL

During Training 7.65 lakhs
After Training 13.40 lakhs
IMPORTANT DATES of PGCIL


Click Here For Advt Notification