Last Updated: 22nd October, 2018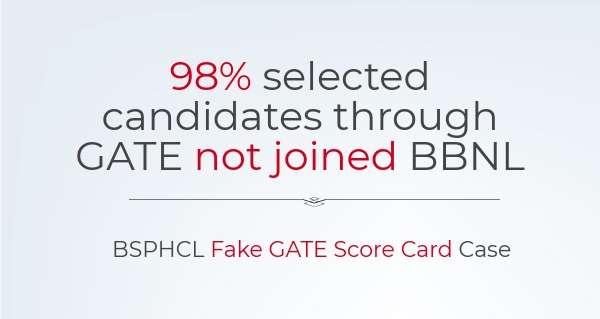 98% selected candidates through GATE not joined BBNL & BSPHCL Fake Score Card Case 
Bharat Broadband Network Limited (BBNL) had recruited 48 applicants after the screening process (GATE 2017 score + personal interviews) for Executive Trainee. You would be shocked to know that out of 48 selected candidates only 1 applicant has joined the company and others, 47 candidates, either not joined and/or expressed their inability in writing of not joining BBNL. BBNL has issued a notification regarding this in their website.
In such a time, when people are not getting jobs, students with good ranks are just wasting valuable seats. To overcome this problem, a central portal (e.g. CCMT and COAP for M.Tech Admission in NITs / IITs) should be developed for PSU recruitment too. So that the students with good GATE ranks could be prevented from wasting these valuable seats.
Bihar Power Holding Company Limited (BSPHCL) also issued two notification (link1 and link2) regarding fake GATE scorecard. Two persons are identified of using Fake GATE scorecard in the 2016 recruitment process and were working in the company as Assistant Electrical engineer and IT Manager respectively from last two years. Now they were asked for returning their whole salary which they have received during their work tenure.
All these unfortunates circumstance can be avoided by developing a central portal like CCMT and COAP for PSU recruiting through GATE. If you feel the same please share this article with your friends.