Last Updated: 30th January, 2019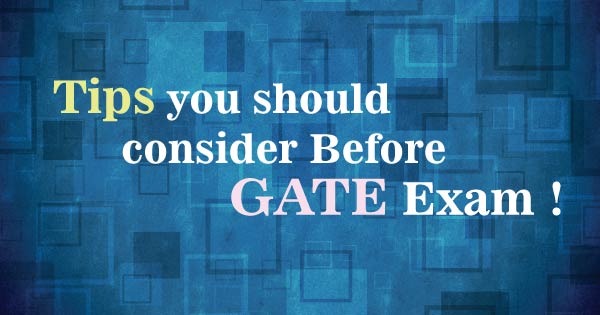 Tips you should consider Before GATE Exam !
Before Exam
First of all in order to remain hectic free and calm a proper sleep is important so take a good nap before exam. Avoid heavy breakfast. Don't forget to carry Admit and Identity Card.
What will be my Strategy against negative marking?
For 1-mark multiple-choice questions, 1/3 marks will be deducted for a wrong answer. Likewise, for 2-marks multiple-choice questions, 2/3 marks will be deducted for a wrong answer. There is no negative marking for numerical answer type questions.
Now if you are facing problem in exam and you are somewhat near qualifying mark please try to avoid guessing answers of other question. In 99% case it will not help you to gain marks.
But yes if you think that you are far behind of qualifying mark, guessing can be an only option for you.
Procedure of making a guess: (Only in worst scenario)
Read each option carefully.
Try to eliminate as many options you can from the questions.
Then make a calculated guess ( try to listen to your instinct)
(Don't Leave Numerical Answer type Question as it has no Negative marking 😉 )
Practice GATE Virtual Calculator Beforehand only.( website version, Android App )
During Exam
Now while giving exam tries to attempt first that category of questions for which you have prepared well.  Some try to prefer starting from 1 mark questions then General aptitude section then after that 2 marks question and in last Linked or Numerical Answer type question as it is more time consuming.
[Most Important] Some time invigilators of examination room who has responsibility of making us comfortable during exam make noises, do gossip with one another which result in distraction of student. If same is happening in your case JUST STAND & ASK THEM TO MAINTAIN SILENCE IN THE CLASS. Don't let them disturb you as a distributed mind can result in wrong answers.
After Exam
Which College is good?
What i will get with this score?
When notification will come?
When will PSU give a call?
Don't worry about all this we are here to take care 🙂
BEST OF LUCK FOR YOUR EXAM.. DO WELL