Last Updated: 11th February, 2014
VITEEE 2014 Admission to M.TECH Programmes
(VIT Master's Entrance Examination)
 PROGRAMMES OFFERED
PROGRAMMES [Vellore Campus]
PROGRAMMES [Chennai Campus]
Master of Computer Applications [MCA] – 2 years (4 semesters)
Master of Computer Applications [MCA] – 2 years (4 semesters)
M.Tech. Programmes – 2 years (4 semesters)

Automotive Electronics Automotive Engineering Biomedical Engineering Biotechnology Communication Engineering

Computer Aided Design/Computer Aided Manufacturing Computer Science and Engineering

Control and Automation Embedded Systems

Energy and Environmental Engineering Information Technology [Networking] Mechatronics

Manufacturing Engineering Nanotechnology

Power Electronics and Drives Sensor System Technology Software Technology Structural Engineering

VLSI Design (Very Large Scale Integrated Circuits Design)

M.Tech. Programmes – 2 years (4 semesters)

Computer Aided Design / Computer Aided Manufacturing Computer Science and Engineering

Communication Engineering

Computer Science Engineering with Specialization in Big Data Analytics

Computer Science Engineering with Specialization in Cloud Computing

Embedded Systems Mechatronics

Power Electronics and Drives Structural Engineering

VLSI Design (Very Large Scale Integrated Circuits Design)
ELIGIBILITY
4.1.Nationality
The applicant for admission should be a Resident Indian National and should have graduated from Institutions located in India.
Eligibility Criteria
Candidates should have graduated with a full-time degree from any recognized University with a minimum aggregate of 60% for MCA and 50% for M.Tech. degree programmes.
Consistent Record in X and XII Std is required.
Candidates appearing for their final degree exam / final semester exam in the current year are also eligible to apply.
Candidates should have completed their final Semester/year exams before the selection interview at VIT University.
It is compulsory for candidates who are selected to produce their final year marks' statement and Provisional degree certificate before August 15th, 2014, failing in this attempt will lead to the cancellation of the admission.
Academic Qualifications
For details of academic qualification, please See Notification Page no 10
ADMISSION PROCEDURE
Admission to both MCA and M.Tech programmes will be based on the Candidates performance in VITMEE conducted by VIT University.
The names of short-listed candidates will be called for attending an interview who will be published in our website: www.vit.ac.in.
Candidates selected to attend the interview will be informed of the date and time through the website and also through SMS if mobile number is provided.
Candidates selected would have to pay a deposit of ` 10,000 towards counselling fee. Counselling fee is Non- Refundable, but it will be adjusted in the tuition fees once the candidate joins the university.
This amount should be paid by way of a Demand Draft drawn in favour of "VIT University", payable at Vellore (only computerised DD alone will be accepted).
Candidates who fail to pay the advance at the interview will not be considered for Admission.
APPLICATION FORMS
Candidates can apply through online at www.vit.ac.in/vitmee. Your application can be sent through either Registered Post or Speed Post.
TUITION AND SPECIAL FEES
10.1 MODE OF PAYMENT
All payments are to be made only in the form of a crossed Demand Draft drawn in favour of "VIT University", payable at Vellore (only computerised DD is accepted). Various tiers of scholarships and teaching assistantships are available for high scores in validGATE and VITMEE.
Programmes
 Category 1

Annual fees with scholarship*

Category 2

Annual fees*

MCA
1,14,000
N/A
M.Tech – CSE, CSE with Specialization in Cloud Computing, CSE with Specialization in Big Data Analytics, IT, VLSI Design, Biotechnology,

Software Technology, Embedded Systems

1,54,000
2,84,000
M.Tech – Automotive Electronics, Nanotechnology, Communication Engg.
1,54,000
2,31,500
M.Tech – Biomedical Engg.

CAD/CAM, Mechatronics, Power Electronics & Drives, Sensor System,

Energy & Environmental, Structural Engg.

1,29,000
2,06,500
M.Tech – Control and Automation
1,29,000
N/A
M.Tech – Automotive Engg.
1,54,000
N/A
M.Tech – Manufacturing Engg.
1,54,000
N/A
SCHOLARSHIPS 
Monthly stipend of ` 4000/- for top six GATE Scores in each M.Tech. Programme.
Top VITMEE / GATE scorers will get a stipend of 3600 Euros (ie. ` 2.40 lakhs) for a double degree programmes in Communication Engineering from UAS, Darmstadt, Germany (under DADD fellowship) and in Sensor Systems from UAS, Karlsruhe.
ACADEMIC QUALIFICATIONS
| | |
| --- | --- |
| M.TECH PROGRAMMES | ELIGIBILITY |
| Automotive Engineering Run in collaboration with Automotive Research Association of India, (ARAI), Pune | B.E/B.Tech. Degree in Mechanical / Automobile / Production / Manufacturing Engineering or Mechatronics or any equivalent degree. |
| Computer Aided Design / Computer Aided Manufacturing | B.E/B.Tech. Degree in Mechanical / Automobile or Production Engineering or any equivalent degree. |
| Energy and Environmental Engineering | B.E/B.Tech. in Civil / Mechanical / Biotechnology / Chemical / Electrical / Biochemical / Environmental / M.Sc in Chemistry, Microbiology, Environmental Science, Biotechnology, Biochemistry. |
| Mechatronics | B.E/B.Tech. Degree in Mechanical / Automobile / Manufacturing / Production / Electrical & Electronics / Electronics & Communication / Electronics & Instrumentation / Instrumentation & Control / Computer Science / Information Technology / Mechatronics or any equivalent degree |
| Manufacturing Engineering | B.E/B.Tech. Degree in Mechanical / Production / Manufacturing / Automobile Engineering or any equivalent degree |
| Structural Engineering | B.E/B.Tech. Degree in Civil Engineering / Civil & Structural Engineering or any equivalent degree |
| Information Technology (Networking) / Software Technology | B.E/B.Tech. Degree in any branch / M.S / M.Sc. Computer Science or Information Technology or Software Engineering / MCA or any other equivalent degree with valid GATE score in Computer Science |
| Nanotechnology | B.E/B.Tech. Degree in ECE / EEE / E&I / M.Sc. Physics with Spl. In Electronics / Material Science / Solid State Physics / B.Tech Nanotechnology / M.Sc. Nanotechnology / or any equivalent degree |
| Communication Engineering | B.E/B.Tech. Degree in Electrical / Electronics / EEE/ ECE/ Telecommunication, E&I/ Computer Sciences* (* Bridge course needed) M.Sc. Physics with Electronics spl. / Electronics or any equivalent degree |
| Sensor System Technology | B.E/B.Tech. Degree in EEE / ECE / E&I / CSE / Instrumentation & Control / M.Sc. Physics with Electronics / Electronics or any equivalent degree |
| VLSI Design (Very Large Scale Integrated Design) | B.E/B.Tech. Degree in Electrical / Electronics / EEE / ECE / E&I / M.Sc. Physics with Electronics / Electronics or any equivalent degree |
| Automotive Electronics in collaboration with TIFAC-CORE industry partners | B.E/B.Tech. Degree in ECE / Telecommunication / CSE / EIE / IT / EEE / Mechatronics or any equivalent degree |
| Power Electronics and Drives | B.E/B.Tech. Degree in Electrical / Electronics / EEE / ECE / E&I or any equivalent degree |
| Computer Science and Engineering | B.E/B.Tech. Degree in any branch / M.S / M.Sc. Computer Science or IT or Software Engineering / MCA or any other equivalent degree **. |
| CSE in Cloud Computing / Big Data Analytics | B.E/ B.Tech Degree in any Branch / MCA or any other equivalent degree. |
| Biotechnology | B.E/B.Tech. Degree in Chemical/Leather Technology/Biotechnology/Industrial Biotechnology/Bio-chemical/Bio-Medical/Bio-Informatics or a Bachelor's Degree in Pharmacy or M.Sc. Degree in Biochemistry/Biotechnology/Microbiology/Bio- Physics/Biology/Botany/Zoology/Genetics/MBBS/M.Sc.(Ag) & M.V.Sc. |
| Biomedical Engineering | B.E/B.Tech Degree in Bio-Medical Engg/Bio-Medical Instrumentation/Medical Electronics/ECE/EIE/Biotechnology/Bio-Informatics/M.Sc in Biophysics/ Electronics/Physics/Bio-Medical Sciences/ Bio-medical Instrumentation/Bioinformatics or MBBS/Degree in Physiotherapy/Occupational therapy of 4 years degree programme. |
| Embedded Systems | B.E/B.Tech. Degree in ECE/EEE/Mechatronics/EIE. |
| Control and Automation | B.Tech(EEE)/B.Tech(ECE)/B.Tech(E&I)/any other Equivalent UG degree. |
Imporatant Date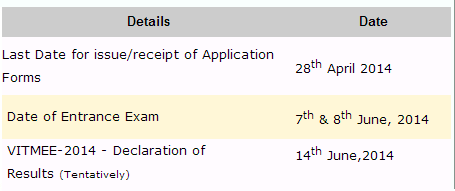 For other Detail Download Notification Click Here
Apply Online Click Here