GATE Score Card | How GATE Score is Calculated
Last Updated: 6th September, 2017
After the declaration of the results, applicants can download their GATE Score Card. The score cards will be issued for only those candidates whose marks are equal to or above the qualifying marks. The GATE 2018 scorecards can be downloaded between 20 March 2018 to 31 May 2018 from the GOAPS portal. After 31 May 2018 applicants have to pay Rs. 500/- for downloading GATE Score Card soft copy.
Calculation of GATE Score
Calculation of Normalized Marks for CE, CS, EC, EE and ME papers
Examination for CE, CS, EC, EE and ME papers is being held in multi-sessions. Hence, for these papers, a suitable normalization is applied to take into account any variation in the difficulty levels of the question papers across different sessions.
Following formula is used for calculating the normalized marks, for CE, CS, EC, EE and ME papers.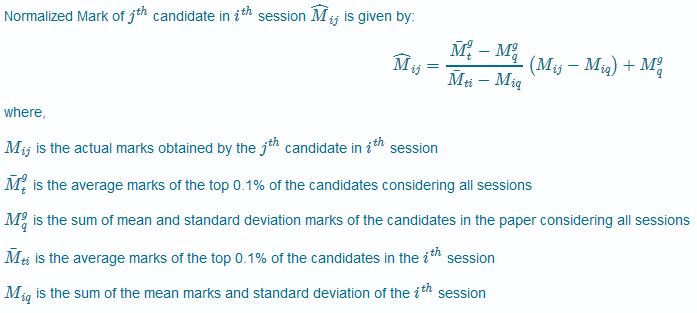 GATE score is calculated using following formula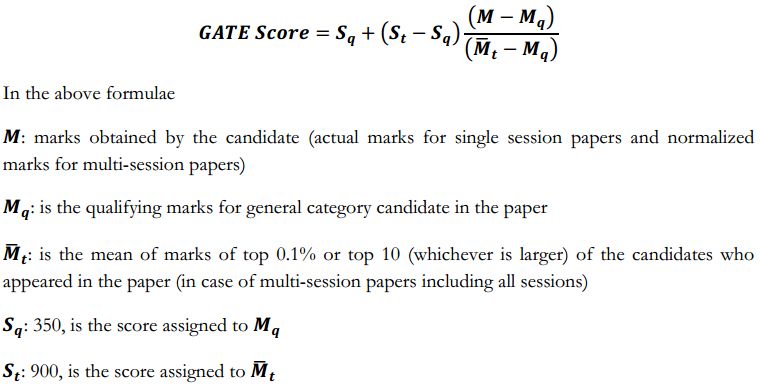 In the GATE exam, the qualifying marks (Mq) for general category applicant in each subject will be 25 marks (out of 100) or μ + σ, whichever is larger. Here μ is the mean and σ is the standard deviation of marks of all the applicants who appeared in the paper.