Last Updated: 4th July, 2013
NIT Raipur Review & Placement Detail
Affiliated To : AICTE
Established In : 1956
Location :  Raipur (C.G.) -492010, INDIA Tel : +91-771-2254200, FAX : +91-771-2254600
Website : http://www.nitrr.ac.in
For Information regarding Third round reporting 2013 Click here
Introduction of NIT Raipur
The Institute, located in Raipur, the Capital City of Chhattisgarh State, is spared over an area of 100 acres. Raipur city is well connected with Mumbai, Delhi, Chennai, Visakhapatnam, Nagpur & Bhubneshwar by regular flights and is on the main Howrah-Mumbai railway line route. The institute is 5 km from Raipur railway station and 14 km from airport on NH-6, the Great Eastern Road.
The institute has a well – organised, magnificent building symbolising the grandeur of the institute. This huge building alone covers a total area of 62060 sq.m. It is a triple storied planned structure alongwith a central tower standing upto the height 23 meters. There are 35 lecture halls extending over an area of 6675 sq.m & 13 drawing halls/studios extending over an area of 3510 sq.m. about 85 labs over an area of 11510 sq.m. The other amenities comprise of a canteen, cycle stand, N.C.C, N.S.S department, a student activity centre co-operative store, and dispensary. The building is being further extended for the architecture and electronics departments with the construction cost of about Rs. 40 Lakh.
Hostels
The institute has 5 boys and 1 girls hostel, within the campus. The institute also manages one additional girls hostel adjacent to campus. A 60-seat girls hostel is under construction adjacent to existing girls hostel within the campus. A plan for construction of a new hostel block for boys is under process. Each hostel is self-contained with amenities such as common room and a dining hall with mess. All the hostel rooms are adequately furnished. Each hostel has a capacity to house about 100 inmate students. Administrative head of each hostel, the warden, is a senior faculty member. Additionally, one caretaker/matron for each hostel exists to manage the day-to-day affairs of the hostel. Each hostel has different students working committees, mess committee, magazine committee, games committee, cleanliness committee etc. Each committee is responsible for specific aspects of hostel affairs. Separate hostel administrative section exists in the institute to manage the hostel matters. Two hostel blocks of 100 seat each, for the boys will be available for the first semester students and will be allotted on the basis of the merit. Lists for hostel admission will be declared after receiving the hostel admission forms by the hostel administration.
Fees: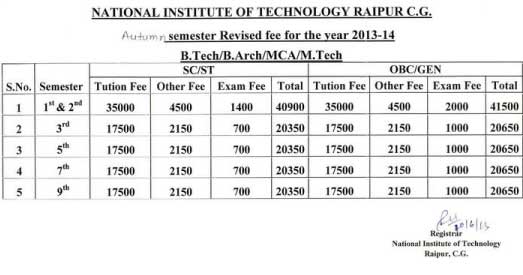 For Hostel Fees: Click Here
NIT Raipur Placement Details 2012 Batch
Sl. No.

Name of Company

Branch

No. of Recruited student

1

Tata Motors Limited

Mechanical

3

Metallurgical

1

Elex. & Tele.

1

Electrical

1

Total

6

2

Shapoorji Pallonji & Co. Ltd.

Civil

7

Total

7

3

Indian Oil Co. Ltd.

Metallurgical

3

Civil

1

Electrical

1

Total

5

4

Mu Sigma

Electrical

2

Civil

1

Mechanical

2

IT

2

Elex. & Tele.

2

CSE

2

Total

11

5

Tata Technology

Mechanical

5

CSE

3

Total

8

6

AREVA (T&D) India Ltd.

Electrical

5

Total

5

7

Unisys

CSE

10

Total

10

8

Mahindra & Mahindra Limited

Electrical

2

Mechanical

4

Metallurgical

2

Total

8

9

Samsung Engineering lab

CSE

8

IT

5

MCA

2

Total

15

10

Indiabulls Power Limited

Civil

1

Electrical

3

Mechanical

4

Total

8

11

Headstrong Service India Pvt. Ltd.

Bio – Technology

1

Chemical

2

CSE

3

Elex. & Tele.

2

IT

5

MCA

7

Mechanical

1

M Tech (CT)

1

Total

22

12

Maruti Suzuki Pvt. Ltd.

Mechanical

14

Total

14

13

Infocept Service India Pvt. Ltd.

CSE

5

Elex. & Tele.

3

IT

1

MCA

1

Total

10

14

Impetus Infotech India Pvt. Ltd.

CSE

2

IT

1

MCA

1

Total

4

15

Cognizant Technology Solutions

Bio – Medical

1

Bio – Technology

11

CSE

8

Elex. & Tele.

10

Electrical

1

MCA

23

Metallurgical

2

M. E. (Chemical)

2

M Tech (CT)

5

IT

9

Total

72

16

Adani Mining Pvt. Ltd.

Mining

4

Total

4

17

Essel Mining & Industries

App. Geology

2

Mechanical

2

Electrical

1

Mining

2

Total

7

18

Ace Calderys

Civil

1

Mechanical

1

Metallurgical

1

Total

3

19

Tata Tinplate

Elex. & Tele.

1

Metallurgical

1

Mechanical

1

Total

3

20

NMDC

Civil

5

Electrical

2

Mining

3

Mechanical

2

Total

12

21

Bharat Forge Limited

Metallurgical

3

Total

3

22

Coal India Limited

Civil

21

Electrical

20

Mechanical

15

Mining

24

Total

80

23

Monnet Ispat & Energy Limited

Metallurgical

11

Total

11

24

Honda Siel Cars India Pvt. Ltd.

Mechanical

1

Total

1

25

L&T Infotech

CSE

1

Elex. & Tele.

1

M Tech (CT)

1

Metallurgical

1

MCA

1

Chemical

1

Bio-Medical

1

Total

7

26

ACC Limited

Chemical

4

Total

4

27

Lafarge Cement Pvt. Ltd.

Mechanical

1

Chemical

1

Total

2

28

Jindal South West Steel Limited

Chemical

4

Electrical

4

Mechanical

1

Metallurgical

12

Total

21

29

Aricent Group

Elex. & Tele.

4

IT

2

CSE

5

MCA

2

Total

13

30

British Oxygen Limited

Chemical

1

Total

1

31

HCL Technologies

CSE

3

IT

3

Elex. & Tele.

2

MCA

2

Total

10

32

Jindal Steel & Power Limited

Chemical

2

Civil

2

Electrical

2

Mechanical

1

Metallurgical

2

Total

9

33

Saint-Gobain

Chemical

2

Civil

1

Total

3

34

Sankalp Semiconductor

Elex. & Tele.

3

Total

3

35

ONGC

Chemical

8

Mechanical

6

Total

14

36

Rancore Technologies Pvt. Ltd.

CSE

1

MCA

2

Elex. & Tele.

4

Total

7

37

Sarda Energy & Mineral Limited

Electrical

2

Metallurgical

2

Total

4

38

HINDALCO

Metallurgical

4

Electrical

2

Mechanical

1

CSE

1

Mining

1

Total

9

39

Thomson Reuters

Elex. & Tele.

3

Total

3

40

Mecon Ltd.

Architecture

1

Civil

2

Electrical

1

Mechanical

2

Total

6

41

Suzuki Powertrain India Ltd.

Metallurgical

5

Mechanical

1

Total

6

42

S.K. Samantha Pvt. Ltd.

Civil

1

Total

1

43

P.E. International

Chemical

2

Total

2

44

BALCO

Mining

2

Total

2

45

Welspun, Gujarat

Metallurgical

1

Total

1

46

HeidelbergeCement India Ltd.

Mining

1

Total

1

47

Gujarat Guardian Ltd.

Chemical

1

Electrical

1

Total

2

48

Tata Projects Limited

Electrical

1

Total

1

49

Pradan

Bio – Technology

2

CSE

1

Total

3

50

Siemens

Electrical

1

Elex. & Tele.

1

Total

2

51

Samsung Engineering lab

CSE

5

IT

5

MCA

3

Total

13

52

NRDA

Electrical

1

Civil

2

Total

3

53

Vedanta Resources

Electrical

3

Total

3

54

Reliance Industries Ltd.

Electrical

3

Chemical

1

Total

4
NIT Raipur Placement Details 2011 Batch
S. No.

Name of the Companies

Name of the Branch

Recruited students

Bio-Tech

Bio-Med

Chem.

Civil

CSE

Elec.

E & TC

IT

MCA

Mech

Meta

Min

M TECH – CT

M.E. – Mech

1

India Bulls Power ltd.

3

2

1

6

2

LG India

1

1

3

MU-SIGMA

4

1

2

7

4

Tata Motors ltd.

2

2

5

SPCL

6

6

6

Arcelor Mittal

3

1

4

7

ABB

2

1

3

8

Godrej & Boyce

2

7

9

9

Tata Steel

1

3

2

6

10

Belzabar

1

1

11

NTPC

2

2

4

12

Hindustan Copper Limited

3

2

5

10

13

Reliance Power ltd.

4

4

8

14

CIL

8

5

9

22

15

Lnt ECC

5

5

16

JSPL

7

7

17

CTS

6

3

21

3

5

12

17

2

1

70

18

SP INFRA

2

1

3

19

ISPAT

1

1

4

2

4

12

20

SAPIENT

1

3

4

21

SEL

6

4

1

11

22

Punj Lloyd ltd.

6

2

8

23

Capgemini

1

2

5

4

13

1

1

1

28

24

Persistent

7

3

1

11

25

Essar Group

3

3

3

1

8

18

26

Accenture

1

1

3

4

6

3

2

1

21

27

Patni Computers

1

2

1

2

1

7

28

Hindustan Petroleum Co. Ltd.

3

2

5

29

MIEL

1

4

1

6

30

BASF India Limited

3

1

1

5

31

Adani Power ltd.

1

1

2

4

32

CCCL

4

4

33

ACC ltd.

3

2

1

6

34

Ace Calderys

2

2

35

Lnt ECC

2

2

36

HCL System

5

3

8

2

9

27

37

Tech Mahindra

1

1

38

Zauri Paradeep Phosphates ltd.

1

1

39

Bharti Infratel ltd.

3

1

4

40

Lanco Group

2

2

41

Lafarge India Pvt. ltd.

1

3

4

42

TACO Group

5

4

3

12

43

JSW

1

5

6

44

TVS Motors

1

1

45

HZL

4

4

46

Rancore Technology ltd.

7

7

47

D. B. Power

3

3

48

ONGC

6

2

3

2

13

49

Tech Endeavour Software

2

2

50

OPM

1

1

2

51

Sunflag Iron & Steel Co.

1

1

52

NRDA

3

1

4

Total

8

9

30

39

52

50

44

43

37

47

38

21

1

3

422

CCMT 2012 Round 4 cutoff
Department
Programme
Group
OC
OB
SC
ST
Open
Close
Open
Close
Open
Close
Open
Close
Civil Engineering – (CE)
Water Resources Development & Irrigation Engineering – (WI)
G1
363
313
281
272
291
203
Chemical Engineering – (CH)
Chemical Process Design – (CD)
G1
400
336
222
199
Electrical Engineering – (EE)
Computer Technology – (XT)
G1
589
584
543
534
404
404
293
293
Electrical Engineering – (EE)
Computer Technology – (XT)
G2
589
579
511
511
396
396
Electrical Engineering – (EE)
Computer Technology – (XT)
G3
579
579
518
518
Electrical Engineering – (EE)
Computer Technology – (XT)
G4
533
515
497
497
Mechanical Engineering – (ME)
Thermal Engineering – (TI)
G1
565
511
511
493
475
475
Mechanical Engineering – (ME)
Thermal Engineering – (TI)
G2
390
390
381
381
247
247